On this page I am keeping track of my experiences with my new BYD Atto3.
The delivery of the car was fine.  It was 14-11-2022 relaxed at BYD -Louwman in Amsterdam, the cars were in the showroom and the transfer and such was all arranged quickly and competently.  Cup(s) of coffee there, received instruction from the expert and on the way home with it!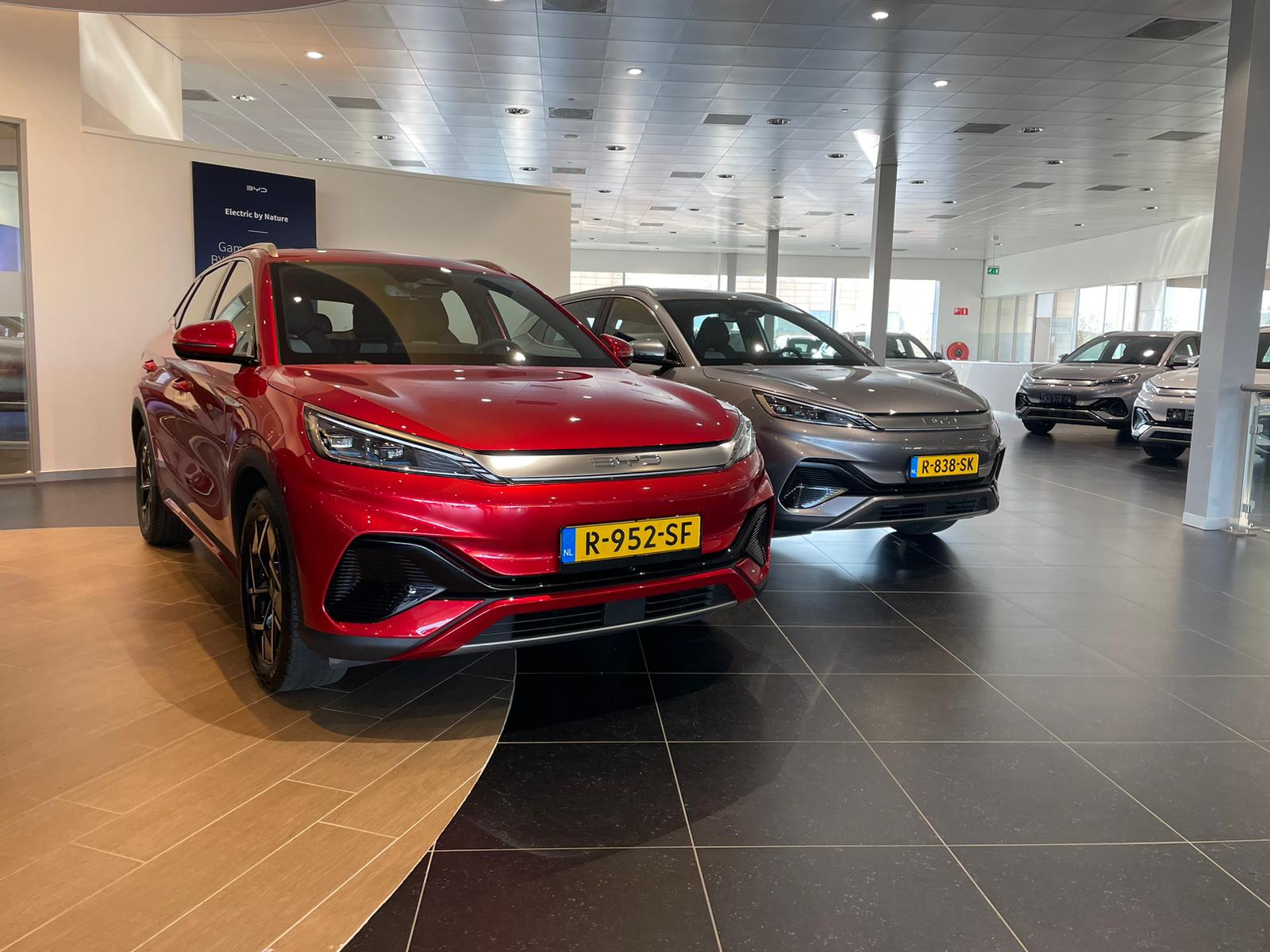 BYD-Louwman delivered the car nicely with full kwH tank, extra rubber mat set, charging cable, VTL cable and all sorts of goodies that are not necessarily necessary but nice.
Everything in terms of apps and voice controls is still in English for now and I'm very happy I was able to get the car so quickly.
Ordered 2022-10-20 and delivered the 14th of November (2022)!
The OTA update to Dutch will come somewhere in Q1-2023 but thgis is not really an issue to me.
The Louwman website has the Dutch version of the instruction manuals for the Atto 3, among others, as a download waiting for whoever wants to read and/or download it.  I did, of course, and quickly read through it before I went for a drive.
Fine, although on the road it was a bit tricky to figure out how to turn on the air conditioning forcibly when the front and side windows suddenly fog up on the road.  We did quickly fix that yesterday by opening the windows slightly and putting the heater and defrost of the windshield on the high setting. And later today I read in the instruction booklet how to prevent that, but of course I could have read that before…. -).
So I don't want to whine about that, but it did teach me to go through the whole book and print it out tomorrow anyway for in the glove box. You never know.
And now for the UPS and DOWNS from my personal experience and perception, for what it's worth:
DOWNS:
There is simply no active self-thinking front wiper on it.  While there is a rain sensor in the car.  Incomprehensible to me, especially with our Dutch climate. And for a car of almost Eur 45k, packed with electronics I really expect that function to be in it.
The video recording app for the dashcam function is missing, while this ia actually already available in New Zealand, but not (yet?) in the Netherlands.  But then we have 'only' soft/firmware version 1.0. And down under they have version 1.2.  Ok, I am not really worried about the dashcam, but it is always prominently advertised in China and New Zealand so I would have expected it just by now. I assume that app will just come in NL as well.  I have always had a front and rear dashcam in the car and it does feel a bit 'bare' now.
My car does not have a tow bar with a tow weight allowance on the license plate.  In New Zealand, for example, that was taken care of in time.  Here that is not expected to come until Q2-Q3 2023 but then it will be too late for me.  My license plate is already fixed and the homologation has already been done.  So I have to get a new Atto3 next year, which will allow you to tow the set weight that is on the license plate.  I don't know yet how to solve this, as I have a trailer that I use regularly and borrowing a car for this seems a bit cumbersome. And trading in the car after a few months also seems strange.
UPS:
The car drives, steers and performs very pleasantly.  I have not felt comfortable behind the wheel in a car so quickly before.  Usually with me that takes several months.  But here everything is different.  Everything is smooth and when you want to you can drive fast, tight but because everything is so smooth I now drive relaxed, quietly following someone else with the ACC and lane assist on:
ACC function (Adaptive Cruise Control). That works simple once you figure out how the controls go and how the operation is.  But it was all intuitive and quick.  Nice that the distance to the predecessor is adjustable in 3 steps and that you still have to keep your hands on the wheel a bit when you have the lane assist on.
Space in the car is very nice, despite the higher floor than in my previous cars.   The seat is also slightly higher than I was used to, even though I have the seat at the lowest position because of my 193 cm height.
Adjustable steering wheel, both in height and depth: This is for me one of the most important pluses of this car.  With this, the feeling of comfort is optimal.
Navigation: The English-language controls and therefore the English-language apps work fine.  Of course, you can not use street names and the like in English via voice control, but typing in is fine on the super large screen. 
Controlling apps also works fine.  I would like to add my own apps, such as the AGAMA dashboard app that I was used to within my previous Android head unit, but I guess that is too much to ask. And I would prefer to include the OBD reader app, GPS apps and so on.  But that will come.
Lighting: Regardless of what you like: The LED headlights are fine, slightly better even than my V70 lights I was used to before.  I turned the extra assistance of high beam OFF, it really made me sick.  It works fine but always that extra light gives me such a restless feeling while using only low beam in this car just works super!
I only found out after reading the instruction booklet that also in this car the mounting points of the safety belts on the upper points are adjustable in height.  I'm used to that, by the way, but had set it once in the previous car and never thought about it again.  Now I quickly raised them because the lower position is less comfortable for me anyway.  I'm glad that this is possible!
Regenerative braking: This works both when you release your gas pedal and when you brake.  In the small LCD screen I can see exactly what regenerative braking does and the effect on fuel consumption is great.  So that works fine, and indicates exactly that you can therefore drive more economically on back roads than on the highway.  Of course, that also depends on your speed.
Consumption: I have done some test drives and come to the conclusion that your consumption is really only influenced by your driving behavior.  Some examples at 13 degrees Celsius ambient temperature without rain: With ACC on, driving behind a truck on the highway averaging 95-98 km/h will cost you (on the dashboard) 12kW, and that is a momentary value.  I drove the A2 in the evening between Breukelen and Abcoude at exactly 130 km/h continuously, with CC on and then the instantaneous consumption is 40kW.  Count your winnings!
Charging: The car charges neatly AC 11kW where available.   Right to the end.  And that seems quite fine.  When I have DC charging experiences, I will update that here.
Noise: I kept hearing an annoying beeping noise, which seems to come from the front under 30 kph.  After reading the instruction book, I understand that this is a mandatory sound to alert pedestrians and cyclists that an electric car is driving.  I understand that it is required, but this sound is really terrible in both adjustable variants in my experience!
Trunk space; This one seemed a bit on the small side before, but I can just carry the same thing I used to carry all the time in my previous car, a V70III.  But it will be on top of each other instead of side by side. See the picture: