As I experienced, from my 10+ 3d printers only the Prusa mini and the I3 Bear deliver adequate print quality.  Even the Voron 2.4 CoreXY has problems if you look carefully at the printed results.  Though all prerequisites were made to build a good printer, it was never really matching real good quality.  So- in my search for the root cause of this somewhat disappointing discovery, I stumbled on some interesting stuff: The HevORT Advanced DIY 3D Printer project.
I found this website as a link from one of my fact finding searches for the cause of wobble in my linear rails that I am using for my Indymill CNC.
Obviously, the cheaper rolled linear screws with ball bearing nuts are not as good as the ones that are first cut on a lathe and are then grinded on a special machine.  The better linear screws with ball bearings are specified into 10 categories from 1 to 10 where no.1 is most expensive and no.10 the least expensive. Quality is better with higher price.  Prices are over 500 Dollars US for the better ones, but can mount up even higher.
If you look at the category of the rolled ball bearing screws, these take a lot of strain in the material due to the manufacturing process. The strain causes an unequal surface and therefore this can cause lateral wobble.  When using these cheap linear ball bearing screws for 3d printers as Z-drives, the lateral problem can be solved by adding shifting plates as horizontal shift compensator.
On the net, a solution is given by using a couple of bearing balls (3) between magnets that are used as rolling plates on top and bottom.  The shifting plate holders on top and bottom stay aligned with each other by mounting 2 magnets that attract each other on 2 sides of these plates.  Please see the cutouts I took from the movie that is provided in the above mentioned link: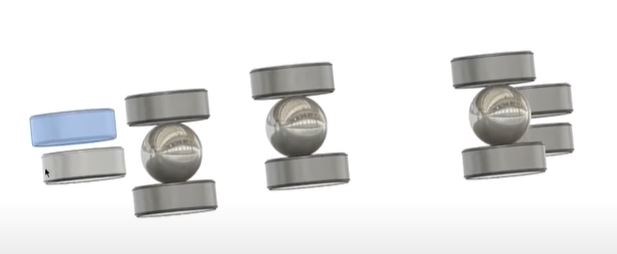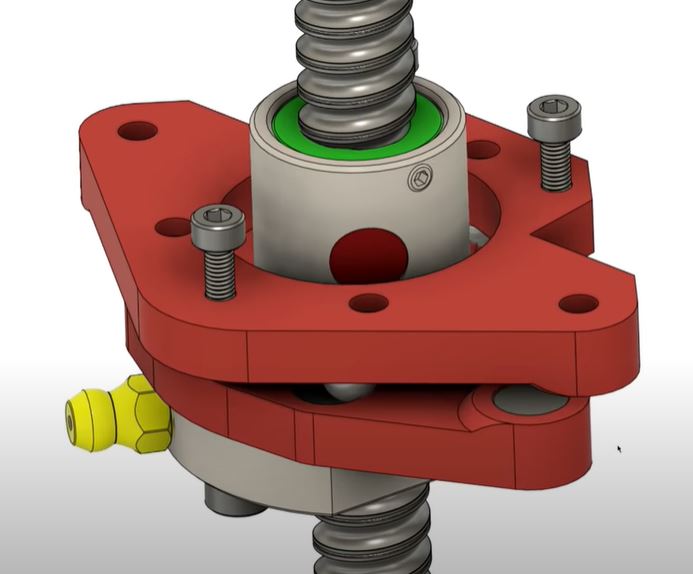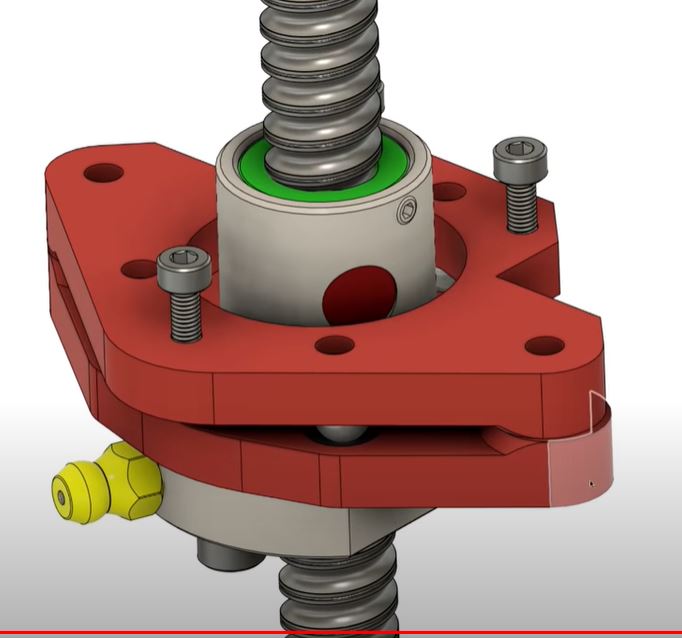 This can be implemented in the HevOrt BUT I feel that my Voron2.4 could really benefit also from this solution. Although the Voron is depending on the vertical linear rails for sliding up and down and a belt mechanism is making the motion happen, the mechanism that compensates for any wobble or different sizing of the frame is only a friction plate of (in my case) 2 PETG surfaces that slides on each other, 1 per vertical axle.
So, I will see what I can find or make to get the above anti-lateral wobble solution built and implemented in the Voron 2.4 asap and see what the result will be!